Canada Co-Ordinator
December 2016
In November 2016, two young women— Felicia Tugak and Tonya Tagoona—from Baker Lake in Nunavut, Canada arrived in Montreal to commence their International Aboriginal Youth Internships (IAYI) funded by Global Affairs Canada through the Interagency Coalition on AIDS and Development (ICAD).
Tonya and Felicia spent part of their internship in Montreal and were involved with a number of activities including the Networks for Change and Wellbeing Project International Dialogue Symposium, the National Women's Studies Association (NWSA) Conference, the Indigenous Film Series and the 4th International Cellphilm Festival.
In December, Tonya and Felicia delivered an informative and educational presentation to McGill Faculty of Education staff and students. Their presentation examined the critical issues facing their community in Baker Lake, Nunavut. The interns expressed that the process of developing this presentation was a very beneficial learning process and presenting built their confidence in this area. The interactive session was a fantastic opportunity for cross cultural exchange, and suggestions were discussed amongst the interns and attendees to further develop the presentation for their upcoming South African audience.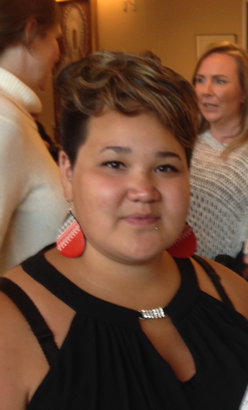 Tonya Tagoona – Documentation and Research Assistant
My name is Tonya Tagoona, I am 20 years old and I am from the geographical centre of Canada, a small community called Baker Lake (Qamani'tuaq), NU. I am a 1st year graduate from Nunavut Sivuniksavut that mainly focused on my background, Inuit. I enjoy volunteering because it is my way of giving back. I have been given so much in life and I believe it is important to give back. I am excited to be a part of the program, Networks for Change and Well-being: Girl-led 'From the Ground Up' because I want to not just see the world, but make a difference in it.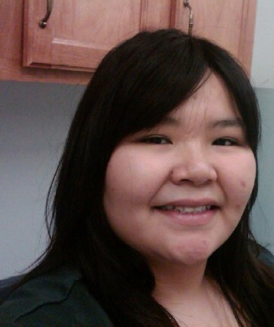 Felicia Tugak – Digital and Media Assistant
I am an Inuk woman from Baker Lake, Nunavut populating 1,700 people. Having worked with many different cultures in my background, I enjoy meeting and working with new people.
I have experience in the Department of Health in my hometown, mainly working with children and oral health since 2013. I enjoy working on projects such as winter clothing and jewellery making.
I graduated from the Jonah Amitnaaq Secondary School in 2007. I hold a certificate from the Children's Oral Health Program, which took place in 2013. I also have a certificate of Inuit Studies at the Nunavut Sivuniksavut Program in Ottawa which is affiliated with Algonquin College.
I am an Intern at McGill University and the University of KwaZulu-Natal through the International Aboriginal Youth Internship Initiative. The project focuses on youth engagement in rural communities in Canada and South Africa on sexual violence and high rates of HIV/AIDS.