By Maria Ezcurra
November 2016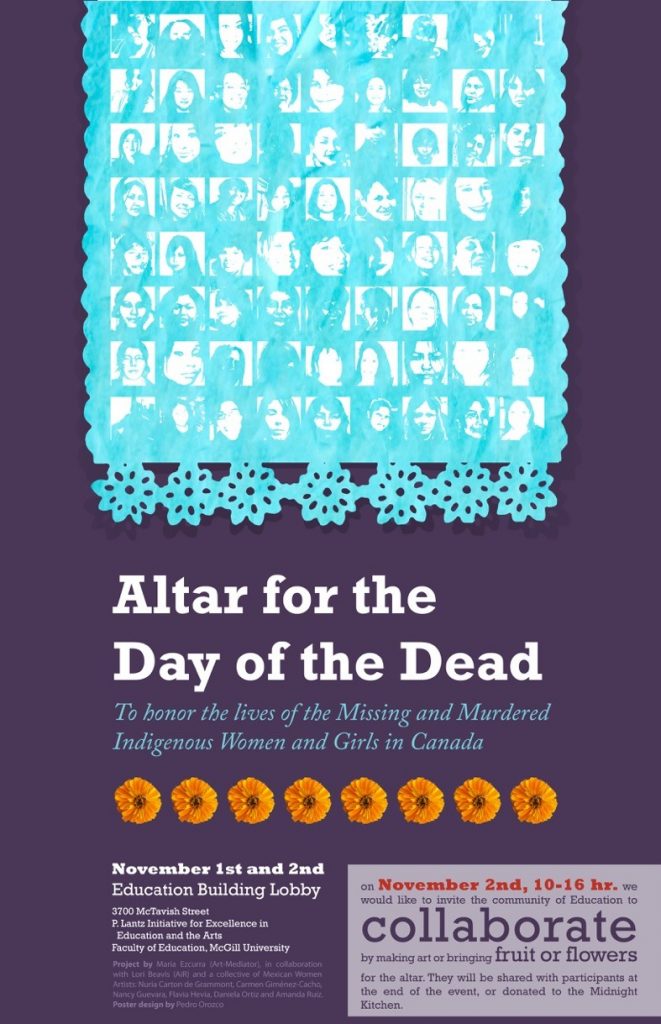 An altar (ofrenda) for the Mexican Day of the Dead (Día de Muertos) was installed in McGill's Faculty of Education, in the first week of November, 2016. It was made by a group of female artists (conformed by both Canadian and Mexican women, as well as by Indigenous descent women from both Latin and North America) to honour the lives of the Missing and Murdered Indigenous Women and Girls in Canada. The Day of the Dead is a festive and sacred time for many Latin American cultures. This day, the souls of the dead are welcomed back, joined with the living, becoming a celebration of life. Significant objects are placed as gifts to the visiting souls in ofrendas: the altars for the children are set on the eve of October 31st with sweets, fruits and white flowers, while the eve of November 1st is the time to honor the adults with cempasúchil (marigold flower), spicy food, alcoholic drinks and cigarettes. The altar had elements from Indigenous communities from both Mexico and Canada. These objects were brought by the participants and also hand-made by student, staff and faculty in collaboration with Lori Beavis, Maria Ezcurra and the Mexican artists. A text placed next to the altar reminded us that we are witnessing a worrying rise of femicides worldwide. The cases of Canadian Indigenous Women and underprivileged Mexican Women in Ciudad Juárez have made evident a discriminatory and weak system of justice. In Canada, the Royal Canadian Mounted Police counted 1,181 Indigenous women who have been murdered or disappeared between 1980 and 2012, while in Mexico, 3,892 women were murdered between 2012 and 2013.
The altar was offered to the Indigenous women and girls that have been murdered and gone missing in Canada. They were mourned, but their lives were also remembered and celebrated in this day. By honouring the lives of these women and girls, we also generated awareness of the widespread violence against Indigenous communities, and about gender-based violence in general, while creating a space for dialogue and bringing the community of McGill together.
It also allowed us to celebrate our ancestors, acknowledge the traditional territory of the Kanien'kehá:ka people where McGill University stands today, and share diverse Indigenous cultures with the community of Education. This project created links, generated awareness, allowed participants to make community and to work together against the increasing violence towards women and girls, particularly marginalized ones, that we are witnessing in the Americas.
This project was created by Maria Ezcurra (Art-Mediator), in collaboration with Lori Beavis (Artist-in-Residence) and a Collective of Mexican Women Artists and Creators, conformed by Nuria Carton de Grammont, Carmen Giménez-Cacho, Nancy Guevara, Flavia Hevia, Daniela Ortiz and Amanda Ruiz.